Renovating your house is, without question, a herculean task. Among the various looming challenges, such as budget constraints, coordination with contractors, and material selection, one stands out—'What to do with your furniture during a renovation?' It is more of an issue if you are in a city like Mumbai, where apartments are usually compact, and there is little to no extra storage space to spare for household items.
Space Valet, one of the best furniture storage companies, knows three household storage solutions to renovate your house without hassles. Explore all ideas and decide the best one for you!
Three cost-free solutions for the temporary storage of household goods during renovation
1. Shift everything to the unused space in the house.
The first solution is a no-brainer. If you have a big house, you mostly have a designated storage space, a guest room, a basement, or other underutilized spaces. Pack your belongings in cartons and bags and relocate them to these areas to prevent potential mishaps.
Downsides
It is not a practical solution if you reside in a more compact apartment with limited available space.
If you live in a multi-story property, you may find it challenging to shift goods from higher floors to lower ones and vice versa.
2. Bring everything to the center of the room.
If you do not have extra storage space for household items and are on a tight budget, this idea may be a viable alternative. All you need to do is gather everything in the middle of the room and cover them with an old bedspread or plastic sheet to protect them from dust, paint, and other mishaps.
Downsides
Using this method, you cannot safely store valuable items such as bulky furniture, delicate home decor, precious artifacts, and paintings as it poses a risk of accidental damage and theft.
If yours is a large-scale renovation project, which calls for the temporary relocation of a larger volume of belongings, you should probably rule out this household storage solution.
3. Store your belongings with your family and friends.
When temporary storage of household goods in your home is impossible, you can contact relatives, neighbors, or friends in the same city. If they have spare space, you can pack everything in boxes or suitcases and drop them at their residence until your house renovation concludes.
Downsides
You may need to bear additional transportation costs for moving goods to their location.
Unforeseen timeline delays may compel you to pick everything before the renovation fully completes.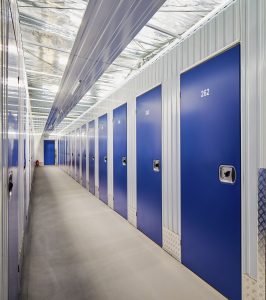 A more practical solution: Find household storage services near you
When none of the above solutions are feasible, you can rely on household storage services in Mumbai. If you've never heard of it, you'll be pleasantly surprised to learn the benefits the furniture storage companies offer!
Unlimited storage:
You can store all household items, including furniture, appliances, crockery, luggage sets, collectibles, sports equipment, toys, baby belongings, electronic equipment, art, valuables, and more.
Safety assurance:
The bestfurniture storage companies are insured and under high security and surveillance round the clock to ensure your goods stay safe and secure.
High-quality facilities:
The household storage areas are constructed using the latest technologies that guarantee ideal environmental conditions, heat insulation, floodproofing, and state-of-the-art fire detection systems. Plus, they are regularly cleaned and maintained.
Convenience:
The household storage services near you generally will not have any lock-in period, which means you can retrieve your goods whenever you want. They also offer delivery and pick-up services
In short, storage facilities will take care of your belongings so that you can focus solely on renovation and wrap it up early.

Book household storage services in Mumbai
If you are looking for temporary storage space for household items that offer all the above benefits, look no further than Space Valet! Explore our various offerings or schedule a call to understand more.