Moving to a new apartment, whether within Mumbai or a new city, is a challenging task, especially for kids. The change may be emotionally overwhelming for them if they have to leave behind their friends, neighbors, and teachers. At such times, they find comfort in their treasured toys and games. You may need to dedicate time to help your kids pack all their playroom items so that they have something to look forward to in the new home.
There's a lot to pack: toy cars, dolls, jigsaw puzzles, clay, board games, and more. How to ensure everything arrives in good condition at the new home? An easy solution is to learn packing tips and temporarily book storage on rent in Mumbai. Space Valet has both for you!
Five easy steps to pack toys
2-3 days are more than enough for packing toys. Keep one day for segregation and the next day for cleaning and packing. If you plan to stock everything at a self-storage facility in Mumbai, account for a third day.
Step 1: Sort out the toys
Over the years, your children will probably have collected many toys, and there's a high possibility they do not use all of them. You can donate the ones they have outgrown, while the broken or dysfunctional toys can make it to the trash bag. However, if you plan to have another child, instead of donating, you can put the toys in a space storage rental until you need them again.
Step 2: Group the toys
Before you dump all toys together in one box, we suggest grouping them based on type, size, and fragility. One group can be toys with outer box packaging, such as board games, construction kits, and puzzles. Similarly, other piles can include stuffed animals, toy vehicles, and art and craft supplies.
Are you looking for storage services in Mumbai? Explore Space Valet's services!
Step 3: Gather storage supplies
The next step before you pack is to have all the right packing supplies. Depending on the size and quantity of the toys, you'll likely need boxes of different sizes, packing tape, labels, and permanent markers. To protect the toys from damage, you can also wrap them in newspapers, plastic bags, and bubble wrap. Some space storage rentals provide their boxes for packing.
Step 4: Clean and disinfect
Research suggests toys can have more bacteria than your countertop, pet's food bowl, or worse, the toilet seat! If you have yet to clean and sanitize them, moving out is an excellent time to take up the task finally. It may be a cumbersome chore, but it's worth it for your child's health. Add disinfectant to a bucket of water and wash or wipe the toys with it.
Schedule a call with Space Valet to learn more about how storage on rent in Mumbai works!
Step 5: Pack and label everything
Finally, you can pack all the toys into their respective boxes. To do so, line your boxes with newspaper and arrange the toys. Make sure to fill up gaps with crumpled newspaper balls to prevent shifting. Then, tape your boxes securely and label them for easy identification later. If you submit the boxes to storage on rent in Mumbai, they will have a record of what you have stored with them, making your task even more straightforward.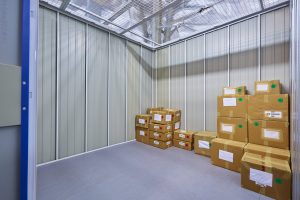 Find the best storage companies near you!
You may temporarily need to load your belongings in a safe storage space until you shift to your new house. Space Valet has various storage units for your household goods, and we have made all the arrangements to keep them safe until you need them again. Some perks that make us the best storage warehouse for rent include 24×7 security & surveillance, state-of-the-art fire detection systems, no lock-in period, month-to-month billing, and delivery and pick-up facilities.