Are you short of room at home or work? Do you frequently tumble over unused goods or become surrounded by stacks of documents? If you answered "yes," it's time to rent a self-storage unit—your ally when downsizing, shifting, or wanting more space in Mumbai.
Space Valet offers varied storage solutions like box storage, flexi-space, self-storage, and Private lockable storage. But what can you store in these units? Well, the list is endless! So, let's understand the top 6 things you can store in a self-storage facility in Mumbai.
Seasonal Clothes & Decor
With every passing season and occasion, your wardrobe gets a refresh—and with it, your storeroom, closet, or attic gets stuffed with bulky winter coats, heaving traditional outfits, gowns/suits, holiday decorations, or patio furniture from the summer. Sounds familiar?
Sports & Outdoor Equipment
If you're an athlete or love being outdoors, you're probably aware of how fast sporting goods can take over your space. Be it bicycles, kayaks, golf clubs, cricket sets, footballs, spare gym equipment, or trekking/camping gear; all these things can be stored with Space Valet's flexi space self-storage units in Mumbai. It keeps your belongings safe and protects them from damage or extreme weather conditions.
Valuable Collector's Items & Art Pieces
Everybody has valuable possessions, whether they are sentimental or monetary. Space Valet, a self-storage facility in Mumbai, understands that such collectibles, rare art pieces, and valuable items often require special care and attention. Hence, our self-storage units offer climate control, 24X7 surveillance, private lockable units, biometric control, flood proof & heat insulation, insurance, etc. With these features & convenience, you can enjoy your precious things for years, knowing they are safe and well-protected.
Baby Items & Unused Furniture
Parents, we understand your pain! As your children grow, so does the amount of baby products and furniture in your home. From cribs and strollers to clothes and toys, these items can occupy valuable space in your home.
Additionally, if you have unused furniture, whether it's that old couch, extra cupboard, spare electronics, or the dining table that no longer fits your style, don't let it clutter your home.Instead, consider storing these items in a self-storage unit. Space Valet offers various storage units for your household goods & baby products, equipped with the convenience, security, and benefits your expensive goods need, making it easy to reuse, sell, or rent them.
Travel Supplies, Bags, & Empty Suitcases
Frequent travelers often have various suitcases, bags, accessories, and other travel-related items, that occupy valuable space in closets and store rooms. Since these goods are not used often, storing them in self-storage units in Mumbai can free up room for daily essentials while keeping your travel necessities in excellent condition.Pro tip: To avoid mold or odor, completely dry your baggage before storing it. Organize small travel items in stackable storage boxes.
Important Documents & Files
Documents and paperwork are permanent residents of every housing cabinet. With new documents/files coming in daily, keeping track of the important ones becomes challenging. Space Valet understands this and offers a convenient and economical document storage service—The Box—where you can store important documents like passports, birth certificates, business files, records, etc.
These boxes are sealed and stored in a climate-controlled environment with surveillance cameras, biometric access control, and fire protection systems, ensuring your documents' safety. You can also schedule a pick-up or drop-off for your documents at your doorstep.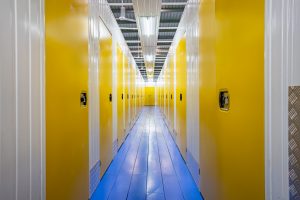 Store Your Spare Items With Space Valet
Believe it or not, self-storage units are practical for storing items not currently in use but still hold value or significance. So, rather than discarding or hoarding these items at home, book your storage warehouse for rent starting from just ₹ 299 / month at Space Valet. They can even barcode and deliver one item at a time for you as and when you need it . That's the convenience!