Let's face it – With cramped spaces and lack of security becoming prevalent concerns, having access to a secure and affordable storage solution has become paramount. Be it a short-term or long-term storage need while downsizing, decluttering, or shifting, Space Valet understands the pain points and has designed storage spaces that offer convenience, safety, and flexibility. So let's know what makes us a reliable storage solution!
Why is safe storage important?
Safe storage is crucial for many reasons, including bringing peace of mind, clearing clutter from homes and offices, and boosting productivity. Whether you want to store household items, business documents, or valuable possessions, it aids in organizing belongings and offering temporary space. A reliable and convenient storage solution like Space Valet ensures that your valuables are in good hands—safe and secure.
What Makes Space Valet A Reliable Storage Provider?
We at Space Valet go above and beyond to meet your storage requirements. Here are some benefits of self-storage units that any customer can enjoy:
Varied Storage options
Space Valet offers multiple storage options to cater to different needs. Choose "the box," a compact, secure storage space, if you need to store small personal belongings or important papers. The "Flexi space" household storage solution provides a bigger space and is best for storing furniture, clothes, or appliances. Also, "private self-storage spaces" come in various sizes, so estimate your needs and find the right storage space.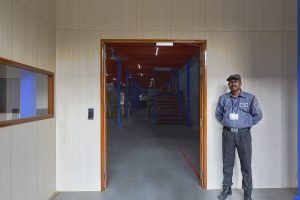 1. Convenience at your fingertips
By booking "our valet service," you won't have to stress about transferring your belongings to and from the storage facility. Space Valet handles the logistics, enabling you to focus on more essential duties. Furthermore, with our convenient storage solution, you get doorstep delivery—saving you time & effort.
2. Trained Professionals and Expert Care
Space Valet takes pride in its team of skilled experts that handle your items with the utmost care. These experts ensure all goods are securely stored, organized, and safeguarded. Their attention to detail and commitment to providing top-notch care ensure the safety and well-being of your valuables.
3. World-class Safety & Security Protocols
When it comes to security & safety, our team at Space Valet has left no stone unturned. With world-class safety and security protocols implemented in every storage facility, your goods are protected from theft, fire, moisture, and other loss or damage. Customers get private lockable climate-controlled units, 24×7 onsite security and CCTV surveillance, fire detection systems, insurance, biometric access control, and clean & maintained facilities, among other features at our safe storage solutions in Mumbai.
4. Flexible storage options
Storage needs can fluctuate over time; hence, Space Valet offers both long-term and short-term lease options—allowing you to pick whether you need storage for a few weeks, months, or even years. Furthermore, if your business or household storage solution needs change, you can increase or reduce your unit size, ensuring you only pay for the space you use. Customers can also enjoy month-on-month billing, no lengthy lock-in period, no large security deposit, and a pick-up and drop facility.
5. Economical & Versatile
With the prices of everything around us rising, we believe in offering affordable storage solutions. By opting for the best storage unit for your needs, you can let go of the overhead cost of rent, insurance, and security—it's all covered by us. We offer an affordable monthly subscription system, allowing you to store various items, from personal belongings to business inventory, starting at just ₹299 / month.
Book Space Valet – the Safe Storage Solutions Mumbai
If you need a safe and reliable storage solution in Mumbai, look no further than Space Valet. With our varied and affordable storage solutions, you can store anything from business supplies, documents, household goods, seasonal/festive clothes, arts & valuables to kid's toys, furniture, and decorations; the list is endless.
With so many benefits of self-storage units, book your space with Space Valet by visiting our website or calling us today.