In several situations, you may need to store your office furniture somewhere safe until you need it again. You are probably looking to free up office space or downsize your business. If not, maybe you are relocating, renovating, or temporarily shifting to a work-from-home setting.
Whatever the reason, office furniture can be delicate, bulky, and valuable, and you possibly cannot afford damage or theft. So, whether you are looking for short-term or long-term furniture storage options, we've got you covered!

Here are four reasons why Space Valet can be the ideal furniture storage solution partner for your business:
1. It is economical
With commercial properties reaching sky-high figures, renting or owning additional office space for furniture storage can be expensive. Professional furniture storage solutions are your best bet if you want to avoid these overhead costs of rent, insurance, and security and need the cheapest way to store stuff. We provide different storage units for furniture depending on your unique requirements. We have an affordable monthly subscription system, starting at just ₹299 / month.
So, if you want an answer to the question — What is the cheapest way to store stuff? — you have found the right solution.
2. It is versatile
Our furniture storage services are versatile, meaning they can accommodate all types and sizes of furnishings for as long as you want. We have space for literally everything. We mean it: chairs, desks, storage cabinets, stools, tables, sofas, lighting, and more.Here are some of our furniture storage solutions:
| | |
| --- | --- |
| Storage solution | Sizes |
| The Box | 2 ft x 1.25 ft x 1 ft |
| Economy Plan | 5 ft x 3 ft x 8.8 ft |
| Walk-in closet plan | 5 ft x 5 ft x 8.8 ft |
| Storeroom plan | 5 ft x 10 ft x 8.8 ft |
| Premium plan | 10 ft x 10 ft x 8.8 ft |
| Flexi space | |
You can explore the different storage spaces for household items.
3. It is secure and protective
With Space Valet's furniture storage services, you can rest assured that your valuable furnishings are stored in a secure and protected environment. We provide storage units designed using international standards with comprehensive security systems to safeguard your office furniture from theft, fire, moisture, and other loss or damage. Some other security features include:
Private lockable units
24×7 onsite security and CCTV surveillance
Biometric access control
Insurance
State-of-the-art fire detection systems
Ideal environmental conditions
Flood-proof and heat insulated
Clean & maintained facilities
With an appropriate storage environment, your furniture will remain in good condition, extending its lifespan and saving you money in the long run.
4. It is convenient
We offer many additional features to make your storage experience seamless and convenient, making us one of the best furniture storage companies. For instance, you can access your storage units for furniture anytime from Monday-Saturday between 10 am to 6:30 pm. Our excellent inventory management system allows online access to your stored items. So if you urgently need something from your storage, you can contact us to deliver it wherever you want.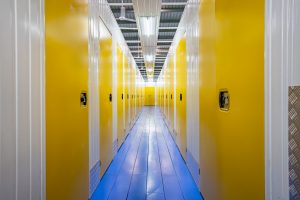 Choose the best furniture storage company for your business
Many small and big businesses have streamlined their storage solutions with Space Valet. If you need short-term or long-term furniture storage options, reserve a suitable storage unit online or call us for guidance. Our staff will understand your unique requirements and help you choose the most appropriate facility!
Space optimization and efficient organization in the office are some of the many benefits cited by businesses that have opted for our furniture storage solutions. Outsourcing this task to our professionals helps them save time and focus on crucial tasks to run and grow their business!