Storage solutions have evolved beyond mere convenience to become a revolution for tenant service and retention in the modern era when space is a premium and clutter is an everyday struggle. As a property manager or landlord, you realize how crucial it is to keep tenants content, and giving them the room to organize their living spaces can make all the difference. Hence, it's time to explore the benefits of self-storage units for various tenants.
Hence, as a landlord, you may charge a tenant additional rent for an external self-storage unit, like Space Valet, one of the best safe storage solutions in Mumbai.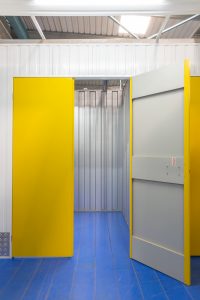 Types of Storage Solutions for Different Tenants
1. Students
Students, who sometimes live in small flats with roommates, confront the difficulty of having little room for their stuff. Landlords can create a more pleasant and pleasant student living environment by providing affordable storage solutions suited to their specific needs.
Self-storage or box storage is a practical storage solution for students, and it is suitable for keeping seasonal or occasional clothing, instruments, course materials, papers, extra furniture, or even baggage. It helps students clean their living areas and provides them peace of mind knowing their belongings are safe.
2. People Who Are Moving Homes
Moving can be an anxious and challenging instance, and having access to safe storage solutions in Mumbai could assist renters, whether they are downsizing, relocating, or renting out temporarily.
Self-storage units are one storage option that comes in various sizes and provide renters with a safe and convenient place to keep their stuff for a short or lengthy period. To give convenience to their tenants, landlords can collaborate with a reputed and affordable storage solution provider and offer these add-on services.
Additionally, for different storage needs, tenants can benefit from different private storage units. People with limited storage needs like occasional clothing, kid's toys, documents, equipment, sports goods, a couple of appliances, etc., can book an economy plan of 5 ft x 3 ft X 8.8 ft or a walk-in closet plan of 5 ft x 5 ft X 8.8 ft. Whereas tenants wanting to store various heavy goods, equipment, household goods, appliances, or their entire room can choose the store room plan of 5 ft x 10 ft X 8.8 ft.
3. Commercial Tenants with a Business
Commercial renters frequently require extra storage space for supplies, equipment, operations, or inventory, mainly those operating small retail shops, restaurants, or office space. Hence, a landlord can offer business storage add-on services to draw and keep business tenants that appreciate the convenience and flexibility of self-storage units catering to their needs.
A good solution could be a private storage unit or warehouse storage option that makes it easy and quick for renters to access their inventory or supplies whenever needed. These units are ideal for additional business storage space for equipment, archives, or businesses with seasonal inventory. This extra convenience will help you present your property as the perfect choice for companies searching for affordable storage solutions.
By considering the specific storage needs of commercial tenants and providing tailored storage solutions, landlords can attract businesses and foster long-term tenant relationships.
The future of storage solutions – Space Valet
Space Valet a cutting-edge service that combines technology and convenience to revolutionize the storage experience for tenants. Whether it's storing seasonal items, excess furniture, or inventory for a home-based business, Space Valet provides a flexible and scalable solution.
Space Valet offers various self-storage units for different tenant requirements – from small lockers to large units. You get end-to-end self-storage solutions, 24X7 surveillance, biometric access, scheduled pick-ups and deliveries, climate-controlled private space, insurance, etc., all at affordable pricing. So, visit Space Valet, and give your belongings a home!