In recent years, the property trends in Bangalore have shifted towards smaller housing units and apartments. While compact spaces are easier to maintain, one of their most significant drawbacks is the lack of storage. If you are tired of overflowing cupboards, crammed bed storage, and stuffed boxes and have decided to go on a decluttering marathon, stop! You do not need to discard your valuable possessions. Instead, you need Space Valet—the best storage solution in Bangalore.
You can think of us as a storage warehouse in Bangalore—we have enough room for all your belongings, from clothes to files!
What household goods can you store with us?
Well, anything and everything you want. So, go around your house and evaluate everything you don't need. Check the various household goods and business assets that you can store with us at our storage facility in Bangalore.
If you are not decluttering, when else would you need Space Valet?
Even if you are not on a 'mission declutter,' many other situations may call for a storage solution in Bangalore, and Space Valet is ready to help!
You are renovating your space:
Renovation can be challenging, especially if you must find alternative accommodations and deal with the hassle of packing and moving belongings. However, a convenient alternative is to store your possessions in our safe and secure household storage in Bangalore until your home is ready.
You are moving cities or countries but plan to return:
Say you are temporarily moving from Bangalore to Mumbai for around a year to work on a project. Instead of paying rent for the house until you return, you can choose a more practical solution and move your belongings to our storage warehouse in Bangalore.
You are downsizing your home:
If you're moving to a smaller house or apartment, you can use our self-storage units in Bangalore to store goods you want to keep.
Which storage solution in Bangalore is best for you?
Our household storage in Bangalore offers different types of self-storage services in varying sizes to fit all your small and large belongings. You can choose the proper storage solution based on your unique requirements.
1. Private storage units
It is an ideal self-storage unit in Bangalore if you are dealing with a space crunch. With private lockable rooms available in various sizes, they are perfect for securely storing a significant amount of goods or large items. These internationally designed units are strong, durable, and secure to keep all your valuable household/business goods safe until you need them. Additionally, we maintain optimal environmental conditions to preserve all types of stored items and deliver your items to your doorstep when requested.
2. The box
If you want to store small things such as books, documents, or clothes, you can opt for our durable plastic boxes that are sealed and kept safely for as long as you want. We even deliver them to your doorstep whenever you need them.
3. Flexi space
With Flexi space, you can store your packed goods in huge designated areas. All our storage facilities prioritize security, ensuring round-the-clock protection through diligent guards, CCTV surveillance, and biometric access. Hence, your belongings are safe from theft, all visitors, and damage.
To know more details, read how it works.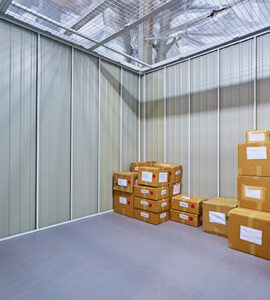 What is the household storage cost in Bangalore?
Based on your storage requirements, the cost differs. Our storage plans start at just ₹299 / month. You can quickly fill out a form or call us for a quote for any self-storage units you wish to choose.

With affordable costs, monthly billing, flexible storage solutions, unlimited lock-in period, and delivery and pick-up services, Space Valet is the best storage facility in Bangalore. Our storage units have all the provisions to keep your goods safe, including 24×7 security, state-of-the-art fire detection systems, and flood-proof and heat insulation.